Set the color of the Renderer.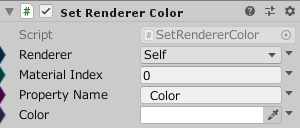 Properties
Property Name
Description
Renderer
Renderer of interest.
Material Index
Index of target material
See the various Renderer Materials (egMesh Renderer Materials) to see which material the index is.
Property Name
Property name.
Color
The value to set.
Remarks
MaterialPropertyBlock is used for setting.