We will apply a force to Rigidbody.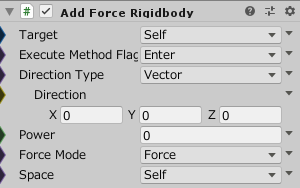 Properties
Property Name
Description
Target
Rigidbody of interest.
Execute Method Flags
The method to execute

Enter

Execute with the method entered in the node.

Update

Execute with node update method.

Late Update

Execute at LateUpdate.

Leave

Execute when leaving a node.

Fixed Update

Execute with FixedUpdate method.

Direction Type
Direction type

Vector

Vector

Euler Angle

Euler angle

Direction
Direction. If DirectionType is EulerAngle, specify Euler angle.
Power
Force applied.
Force Mode
Option for how to apply a force.
SeeForceModefor details.
Space
Space to apply force.
If Space.Self is specified,Rigidbody.AddRelativeForceis used.